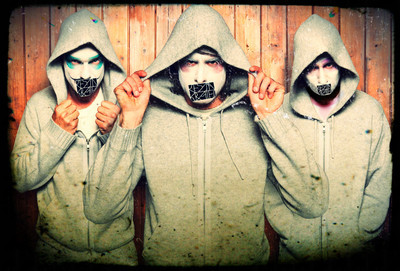 If Keys N Krates aren't already on your radar, they should be. The trio, hailing from our northern neighbor (Canada, for those of you who failed geography), appeals to a large crowd of music appreciators by dabbling in both EDM and rap, remixing songs by artists ranging from Snoop Dogg to Justice. What sets Keys N Krates apart from your typical DJ/producer-type is their ability to remix songs live: Jr. Flo utilizes his World Champion turntablist skills, Matisse rocks out on the keyboard, and Adam Tune provides some seriously infectious drummage to the mix. Though they may not be on your average EDM-lover's radar like, say, Kaskade or SHM, they are sure to make themselves known, and are slated to perform at some of the US' biggest festivals this year, including Ultra and DEMF.
Keys N Krates just recently released their remix for Miike Snow's "Devil's Work," which in a word, is odd: Odd, but in a strangely beautiful way, where they make seemingly unmatchable beats and melodies flow in a rhythmic orgy. Take a listen here:
Miike Snow – Devil's Work (Keys N Krates RMX) by Keys N Krates
If you like what you hear, visit their Facebook & Soundcloud for more tunes. It's a long weekend, you'll find the time. Enjoy!
-K